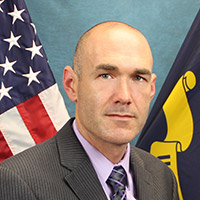 Watch a video of the talk on YouTube
How do you secure a data center, that's installed on a warship...while fighting at sea in a combat zone? How do you defend against motivated adversaries with enormous budgets? This talk will focus on cybersecurity in the environment that the US Navy faces. We will spend some time discussing the engineering process and factors that make the Navy's environment especially challenging. We will discuss exciting work that we are performing with academia to better secure our systems.
About Rob Templeman
Dr. Robert Templeman works for the US Navy as the Chief Engineer for Cybersecurity at Naval Surface Warfare Center, Crane Division (NSWC Crane) where he leads research efforts. He is a graduate of Indiana University (Ph.D. in Computer Science), the Rose-Hulman Institute of Technology (M.S. in Engineering Management) and Purdue University (B.S. in Electrical Engineering). In 2016, Dr. Templeman was appointed, by then Governor Mike Pence, to the Indiana Executive Council on Cybersecurity to represent Defense issues for the State of Indiana. He is a member of the Defense Acquisition Corps and served as a Non-Commissioned Officer in the United States Marine Corps with one deployment to Iraq in 2003.