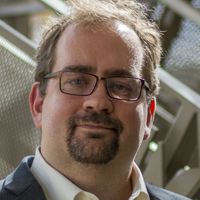 Email:

vwelch@indiana.edu
Von Welch is the acting associate vice president for Information security, executive director for the OmniSOC, executive director for cybersecurity innovation at Indiana University, and the director of IU's Center for Applied Cybersecurity Research (CACR).
CACR has a unique focus - improve real world cybersecurity for organizations with missions that challenge traditional cybersecurity approaches. Examples include research and development, open science, and highly distributed collaborations. CACR project partners and funders include the US Department of Defense, National Science Foundation, Department of Homeland Security, as well as private sector organizations - and Von's roles span research, development, operations, and leadership. 
He specializes in cybersecurity for distributed systems, particularly scientific collaborations and federated identity. His current roles include serving as PI and director for the NSF Cybersecurity Center of Excellence (Trusted CI), a project dedicated to helping NSF science projects with their cybersecurity needs, and co-PI and lead for cybersecurity for the Software Assurance Market Place, a DHS-funded facility to foster software assurance and software assurance research.
He is also PI and director of the Research Security Operations Center (ResearchSOC), a collaborative security response center that addresses the unique cybersecurity concerns of the research community.
Von is a frequent public speaker, and he has authored nearly 50 publications and multiple internet standards.
Previously he has worked with a range of high-visibility projects to provide cybersecurity to the broader scientific and engineering community, including TeraGrid, Open Science Grid, Ocean Observatory Infrastructure, and GENI. His work in software and standards includes authoring two IETF RFCS and the development of several security systems for distributed computing including CILogon and MyProxy.
Current roles:
Acting Associate Vice President for Information Security
Executive Director, OmniSOC
Executive Director for Cybersecurity Innovation
NSF Cybersecurity Center of Excellence
Director and Principal Investigator
https://trustedci.org
Software Assurance Marketplace (SWAMP) co-PI and Chief Security Officer
https://continuousassurance.org/
InCommon Steering Committee
Advisor for Research.
https://www.incommon.org/
Array of Things
Technical Security and Privacy Group Chair
http://arrayofthings.github.io/
Virginia ACCORD (Assuring Compliance for Computing and Research Data)
Community Advisory Board
http://accord.cs.virginia.edu/
Internet2 External Advisory Group on Cyberinfrastructure Deployment, Support and Protection
Publications
Welch Von; Foster, Ian; Kesselman, Carl; Mulmo, Olle; Pearlman, Laura; Tuecke, Steven; Gawor, Jarek; Meder, Sam; and Siebenlist, Frank. X.509 Proxy Certificates for Dynamic Delegation, Proceedings of the 3rd Annual PKI R&D Workshop, 2004
Welch, Von; Beckles, Bruce; and Basney, James. Mechanisms for Increasing the Usability of Grid Security, International Journal of Human Computer Studies, Special Issue on HCI Research in Privacy and Security, 2005
Welch, Von; Basney, Jim; Flanigan, Patrick; Heo, Jin; Khurana; Mugglie, Joe; Pant, Meenal; and Slagell, Adam. Mithril: Adaptable Security for Survivability in Collaborative Computing Sites, Workshop on Enterprise Network Security (WENS) at Securecomm 2006, 2006