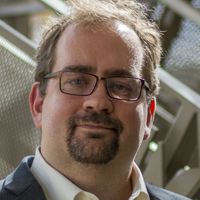 Email:

vwelch@indiana.edu
Von Welch is a former associate vice president for Information Security and executive director for Cybersecurity Innovation at Indiana University, executive director for the OmniSOC, and the director of IU's Center for Applied Cybersecurity Research (CACR).
During his time at Indiana University, he specialized in cybersecurity for distributed systems, particularly scientific collaborations and federated identity. His roles included serving as PI and director for the NSF Cybersecurity Center of Excellence (Trusted CI), a project dedicated to helping NSF science projects with their cybersecurity needs. He was also PI and director of the Research Security Operations Center (ResearchSOC), a collaborative security response center that addresses the unique cybersecurity concerns of the research community.
Von is a frequent public speaker, and he has authored nearly 50 publications and multiple internet standards.
Previously he has worked with a range of high-visibility projects to provide cybersecurity to the broader scientific and engineering community, including TeraGrid, Open Science Grid, Ocean Observatory Infrastructure, the Software Assurance Marketplace (SWAMP), and GENI. His work in software and standards includes authoring two IETF RFCS and the development of several security systems for distributed computing including CILogon and MyProxy.
Publications
Welch Von; Foster, Ian; Kesselman, Carl; Mulmo, Olle; Pearlman, Laura; Tuecke, Steven; Gawor, Jarek; Meder, Sam; and Siebenlist, Frank. X.509 Proxy Certificates for Dynamic Delegation, Proceedings of the 3rd Annual PKI R&D Workshop, 2004
Welch, Von; Beckles, Bruce; and Basney, James. Mechanisms for Increasing the Usability of Grid Security, International Journal of Human Computer Studies, Special Issue on HCI Research in Privacy and Security, 2005
Welch, Von; Basney, Jim; Flanigan, Patrick; Heo, Jin; Khurana; Mugglie, Joe; Pant, Meenal; and Slagell, Adam. Mithril: Adaptable Security for Survivability in Collaborative Computing Sites, Workshop on Enterprise Network Security (WENS) at Securecomm 2006, 2006