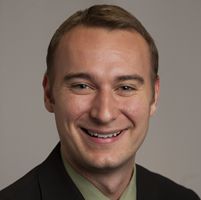 Email:

sjshacke@indiana.edu
Scott Shackelford is an Assistant Professor of Business Law and Ethics at Indiana University. Aside from being a fellow of the Center for Applied Cybersecurity Research, he is affiliated with the IU Center for the Study of Global Change, Global and International Studies Program, Integrated Program in the Environment, and the Russian and East European Institute. Professor Shackelford specializes in cybersecurity law and policy, sustainable development, and global commons governance. During the Fall of 2013, Professor Shackelford was a distinguished visiting fellow at the Notre Dame Institute for Advanced Study.
Professor Shackelford has written more than 30 articles, essays, and book chapters, many of which on the topic of cybersecurity law and policy, that have been published in such outlets as the New York University Environmental Law Journal, American Business Law Journal, Stanford Environmental Law Journal, Stanford Journal of International Law, and the Berkeley Journal of International Law. His most recent work is Managing Cyber Attacks in International Law, Business, and Relations: In Search of Cyber Peace (Cambridge University Press, forthcoming, 2013). Professor Shackelford has also written op-eds on the topic of cybersecurity that have been published in the Huffington Post and the San Francisco Chronicle, while his research has been covered by National Public Radio, The Atlantic, and USA Today.
His many awards include the Stanford Law School Steven Block Civil Liberties Award for Writing on Civil Rights, and in 2011-2012 Professor Shackelford won the Indiana University Trustees' Teaching Award for Excellence, the Kelley School of Business Innovative Teaching Award, and the Campus Sustainability Award for Teaching Excellence. A frequent speaker to a variety of audiences, Professor Shackelford has presented his research on cybersecurity at diverse forums, including Stanford University, Australian National University, the University of Notre Dame, and to the Prime Minister and Cabinet Office of the Government of Australia, the Croatian Chamber of Commerce, NATO, the Swedish National Defense College, the Indiana Counter Proliferation Task Force, and the Harvard Business Review.