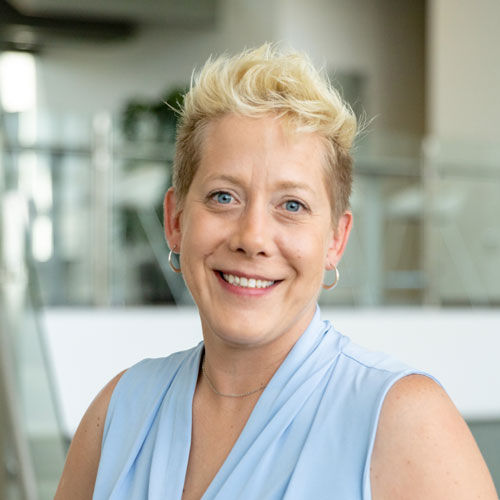 Biography
Emily K. Adams is a Principal Security Analyst at the Indiana University Center for Applied Cybersecurity Research. Amongst the variety of CACR projects she is involved with, she particularly enjoys cybersecurity assessments of complex environments, exploring security challenges of industrial control systems (ICS)/operational technology (OT) environments, and consulting on regulatory-driven (e.g. NIST RMF, CMMC) cloud computing solutions for research projects. 
Before joining CACR, Emily's career included serving IU's University Information Security Office (UISO) as a Lead Security Engineer focused on protecting and defending the university's information technology environment with expertise in security consulting, network intrusion detection, incident response, and security systems administration. Emily also served the Department of Defense US Navy and Marine Corp as an Information Assurance Analyst contractor developing risk response and IT security recommendations for the Special Projects Engineering and Research program at NSWC Crane. Prior to entering the cybersecurity field, she led the enterprise deployment and support team for Indiana University's macOS student computing centers.
Education
Publications
Jackson, Craig, Cowles, Bob, Russell, Scott, Adams, Emily K., Kiser, Ryan, Ricks, Ranson, & Shankar, Anurag. (2021). "The Trusted CI Framework Implementation Guide for Research Cyberinfrastructure Operators (1.0),"Trusted CI, the NSF Cybersecurity Center of Excellence. https://doi.org/10.5281/zenodo.4562447
Emily K. Adams, Mehool Intwala, and Apu Kapadia, "MeD-Lights: A Usable Metaphor for Patient Controlled Access to Electronic Health Records," In Proceedings of the 1st ACM International Health Informatics Symposium (IHI '10), Tiffany Veinot (Ed.). ACM, New York, NY, USA, 800-808. 
Emily K. Adams, "Semi-Quantitative Metrics for Evaluating Cyber Risk of Public Information: Higher Education," Paper presented at workshop: Research Methodologies for Analyzing Cybercrime and Cyberwar. ACM Web Science 2014 Conference (WebSci '14), Bloomington, IN. June 23 - 26, 2014. 
Vaibhav Garg, Emily K. Adams, James T. Brown, and Nathaniel Husted, "Facilitative and Rememberative: Novel Incentive Structures for Increased Exercise in Interactive Media," SIGCAS Comput. Soc. 44, 2 (July 2014), 11-15.